Banana Bread Recipe- EASY RECIPE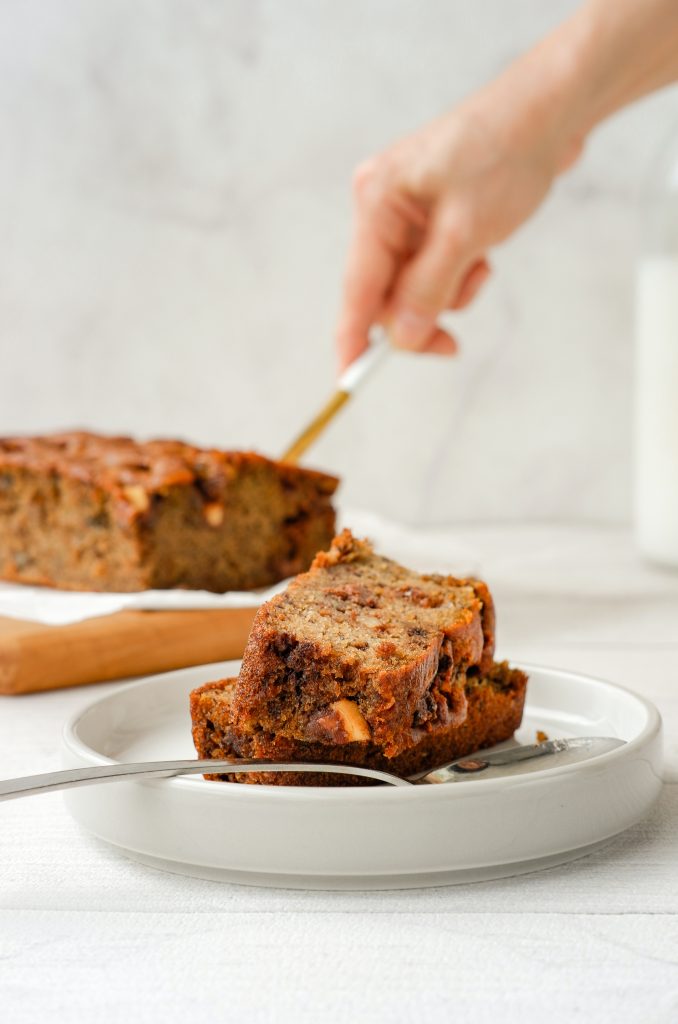 Got some overripe bananas lying around and not sure what to do with them? Don't throw them away – turn them into a delicious loaf of banana bread!
Banana bread is a classic treat that's easy to make and always hits the spot. Whether you're a seasoned baker or a novice in the kitchen, this recipe is perfect for anyone looking to whip up a quick and tasty treat.
With its soft, moist texture and rich banana flavor, this banana bread recipe is sure to become a favorite in your household. So grab your apron and let's get baking
Ingredients:
3 ripe bananas
1/3 cup of butter, melted
1 teaspoon of baking soda
A pinch of salt
3/4 cup of sugar
1 large egg, beaten
1 teaspoon of vanilla extract
1 1/2 cups of all-purpose flour
Instructions:
Preheat the oven to 350°F (180°C).
Take the ripe bananas and mash them in a large mixing bowl until they become mostly smooth. Leave some chunks if you prefer a bit of texture.
Stir in the melted butter to the banana mixture.
Add baking soda and salt to the banana mixture, and stir until they are well combined.
Stir in the sugar, beaten egg, and vanilla extract, making sure everything is well mixed.
Add the all-purpose flour to the mixture and stir until it's just combined. Overmixing will make the bread tough.
Pour the batter into a greased 9-inch loaf pan.
Bake the batter for 50-60 minutes, or until a toothpick inserted in the center of the bread comes out clean.
Allow the bread to cool in the pan for 10-15 minutes, then remove it from the pan and let it cool completely on a wire rack.
Tips:
Choose ripe bananas for the best flavor and texture. They should be mostly brown and soft to the touch.
Melt the butter before adding it to the banana mixture. This helps to evenly distribute the fat throughout the bread.
Make sure you use baking soda and not baking powder. Baking soda reacts with the acid in the bananas to help the bread rise.
Don't overmix the batter. Mix until just combined, or your bread will be tough.
Let the bread cool in the pan for 10-15 minutes before removing it. This helps it set up and prevents it from falling apart.
Variations:
Banana bread is a beloved classic, but did you know that there are many creative variations you can make to this tasty treat? Here are five unique banana bread recipes that you can also try to switch up your baking game:
Peanut Butter Banana Bread – add peanut butter to your banana bread batter for a nutty and delicious twist.
Chocolate Chip Banana Bread – throw in some chocolate chips for a sweet and decadent touch.
Carrot Cake Banana Bread – combine the flavors of two classic desserts by adding shredded carrots, cinnamon, and nutmeg to your banana bread recipe.
Lemon Poppyseed Banana Bread – add some zest and poppy seeds to your batter for a refreshing and tangy twist.
Coconut Banana Bread – incorporate shredded coconut into your banana bread for a tropical and flavorful treat.
How to serve and store banana bread:
To serve banana bread, slice it into pieces of your preferred thickness and enjoy it as a snack or breakfast treat. You can also toast it and serve it with butter or cream cheese. If you want to make it more indulgent, try adding whipped cream or a drizzle of honey or caramel sauce.
To store banana bread, wrap it tightly in plastic wrap or aluminum foil and store it at room temperature for up to 3 days. Alternatively, you can store it in the refrigerator for up to a week or freeze it for up to 3 months. Before freezing, make sure the banana bread has cooled completely and wrap it in plastic wrap and aluminum foil or store it in an airtight container. When you're ready to eat it, thaw it overnight in the refrigerator or at room temperature for a few hours.
Conclusion:
With this simple recipe and tips, you can make the perfect banana bread that will leave your taste buds begging for more. Don't settle for a bland and dry bread when you can have a moist and fluffy one with a rich banana flavor. Follow these steps, and you'll be able to make the best banana bread you've ever tasted. So, grab some ripe bananas and start baking today!