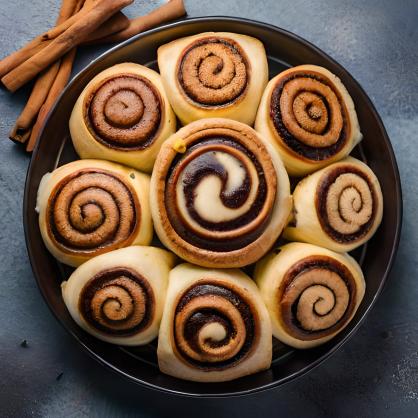 Hey there, fellow food lovers! Today, I'm absolutely thrilled to share with you one of my all-time favorite recipes: Easy Cinnamon Rolls. These pillowy soft, cinnamon-infused spirals of joy have the power to brighten even the gloomiest mornings. So, put on your apron, roll up your sleeves, and let's dive into the world of cinnamon-scented delight!
The Sweet Aroma of Cinnamon Bliss
There's something about the warm, comforting aroma of cinnamon wafting through the kitchen that instantly puts a smile on my face. It's like a hug from the inside out. And that's precisely what you'll experience as you bake these fluffy wonders.
Ingredients for Cinnamon Rolls
Before we get started, let's gather our  ingredients. We'll need:
For the Dough:
– 2 ¼ teaspoons active dry yeast
– ½ cup warm milk
– ¼ cup granulated sugar
– 1 egg
– ¼ cup unsalted butter, melted
– 3 ½ cups all-purpose flour
– ½ teaspoon salt
For the Filling:
– ⅔ cup brown sugar, packed
– 2 tablespoons ground cinnamon
– ¼ cup unsalted butter, softened
For the Frosting:
– 4 ounces cream cheese, softened
– ¼ cup unsalted butter, softened
– 1 cup powdered sugar
– 1 teaspoon vanilla extract
How to Make these Easy Cinnamon Rolls :
1. Activate the Yeast:
– In a bowl, combine warm milk and a pinch of granulated sugar.
– Sprinkle the yeast on top and let it sit for about 5 minutes until it becomes bubbly and frothy.
2. Mix the Dough:
– To the yeast mixture, add the remaining sugar, melted butter, egg, and a portion of the flour.
– Stir until it forms a soft, sticky dough.
– Gradually add the remaining flour and salt.
– Knead until the dough is smooth and elastic.
3. Let the Dough Rise:
– Place the dough in a bowl, cover it, and let it rise in a warm spot for about an hour.
4. Roll Out the Dough:
– On a floured surface, roll out the dough into a rectangular shape.
5. Prepare the Cinnamon Filling:
– Spread softened butter evenly over the dough.
– Generously sprinkle brown sugar and ground cinnamon over the butter.
6. Roll Up the Dough:
– Roll up the dough tightly, starting from the long side.
7. Slice and Arrange:
– Slice the rolled dough into equal-sized rounds.
– Arrange the rounds in a greased baking dish, leaving space for them to expand.
8. Bake to Golden Brown:
– Preheat the oven to 350°F (175°C).
– Bake the cinnamon rolls for about 20-25 minutes or until they turn golden brown.
9. Frost with Cream Cheese Frosting:
– While the cinnamon rolls are still warm, generously slather them with cream cheese frosting.
– The frosting is a simple blend of cream cheese, butter, powdered sugar, and a dash of vanilla extract.
10. Enjoy:
– Pull apart a cinnamon roll, let the sweet, gooey goodness stretch, and savor that heavenly bite.
– Whether it's a lazy Sunday morning treat or a delightful breakfast surprise for loved ones, these cinnamon rolls are the epitome of warmth, comfort, and happiness on a plate.
Wrap Up and Savor
And there you have it—your very own batch of Easy Cinnamon Rolls! Pull one apart, let the sweet, gooey goodness stretch, and take that first heavenly bite. It's like a warm hug for your taste buds, and I guarantee it'll make your day a whole lot brighter.
So, whether you're treating yourself on a lazy Sunday morning or surprising your loved ones with a delightful breakfast, these cinnamon rolls are the answer. They're the embodiment of warmth, comfort, and pure happiness on a plate.
I hope you enjoy making and savoring these cinnamon rolls as much as I do. Remember, there's something incredibly special about homemade treats that bring joy to your heart and a smile to your face. Happy baking, my friends!
FAQs (Frequently Asked Questions) that you might have about a Cinnamon Rolls Recipe:
1. Can I make the dough in advance and refrigerate it overnight?
– Yes, you can prepare the dough ahead of time, refrigerate it overnight, and continue with the recipe the next morning.
2. How do I make the cream cheese frosting even creamier?
– To achieve a creamier frosting, ensure that your cream cheese and butter are at room temperature before mixing.
3. Can I customize these cinnamon rolls with additional ingredients like nuts or raisins?
– Absolutely! You can add chopped nuts, raisins, or even a drizzle of caramel sauce before baking to personalize your cinnamon rolls.
4. How long can I store these cinnamon rolls, and what's the best way to store them?
– You can store them in an airtight container at room temperature for up to two days or in the refrigerator for a longer shelf life.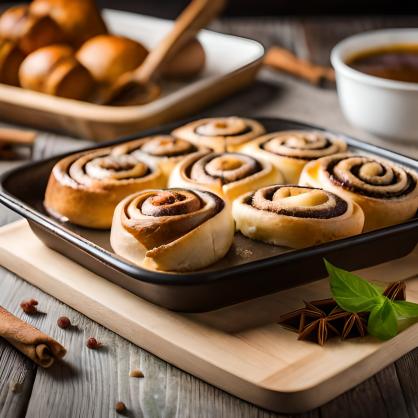 5. Are these cinnamon rolls freezer-friendly?
– Yes, you can freeze the unbaked rolls and bake them when needed for a quick and fresh treat.
6. Can I enjoy these cinnamon rolls without the cream cheese frosting?
– Certainly, although the cream cheese frosting adds a delightful touch, you can enjoy these cinnamon rolls without it.
7. What's the best way to reheat cinnamon rolls?
– To enjoy the warm, gooey goodness again, simply microwave them for a few seconds or warm them in the oven at a low temperature.
8. What occasions are these cinnamon rolls perfect for?
– These cinnamon rolls are ideal for breakfast, brunch gatherings, or as a delightful dessert for any occasion.
9. Where can I find the full Easy Cinnamon Rolls Recipe for future reference?
– You can bookmark this page or save the Easy Cinnamon Rolls Recipe for your future baking adventures.
10. Can I make variations of this recipe to suit dietary preferences like vegan or gluten-free?
– Yes, you can adapt the recipe to make vegan or gluten-free cinnamon rolls by using suitable substitutions for dairy or flour.