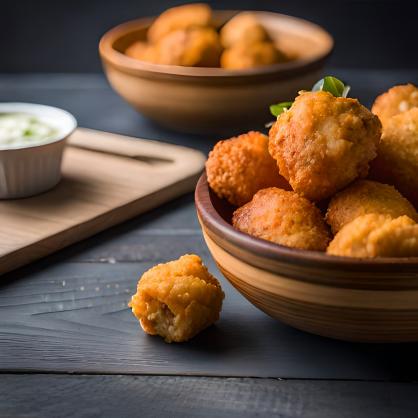 Craving something crispy and bite-sized? Look no further than our simple and delicious Crispy Popcorn Chicken recipe. Whether you desire a savory snack, a delightful appetizer, or a crowd-pleasing addition to your gathering, this homemade popcorn chicken offers a burst of flavor and satisfying crunch.
Popcorn chicken, with its golden exterior and tender interior, is cherished by people of all ages. In this recipe, we'll guide you to achieve popcorn chicken perfection. Marinated in buttermilk and coated with a flavorful blend of spices, these bite-sized chicken pieces boast a crispy, golden-brown exterior that reveals juicy, tender meat within.
Whether you're planning a cozy movie night, hosting friends and family, or simply yearning for a tasty treat, this homemade popcorn chicken recipe is destined to become a household favorite. So, roll up your sleeves, preheat that oil, and prepare to savor the joy of making your very own Crispy Popcorn Chicken. Enjoy!
Ingredients for Popcorn Chicken:
– 1 pound boneless, skinless chicken breasts or thighs, cut into bite-sized pieces
– 1 cup buttermilk
– 1 1/2 cups all-purpose flour
– 1 teaspoon paprika
– 1/2 teaspoon garlic powder
– 1/2 teaspoon onion powder
– 1/2 teaspoon dried thyme
– 1/2 teaspoon dried oregano
– 1/2 teaspoon salt
– 1/4 teaspoon black pepper
– Vegetable oil, for frying
Instructions for Crispy Popcorn Chicken:
1. Marinate the Chicken:
– Place the chicken pieces in a bowl and pour the buttermilk over them, ensuring each piece is coated.
– Cover the bowl and refrigerate for at least 30 minutes or overnight for maximum flavor.
2. Prepare the Coating:
– In a separate bowl, combine all-purpose flour, paprika, garlic powder, onion powder, dried thyme, dried oregano, salt, and black pepper. Mix well.
3. Coat the Chicken:
– Remove the marinated chicken from the refrigerator.
– Heat vegetable oil in a deep fryer or heavy-bottomed pot to 350°F (175°C).
– Take each chicken piece, allowing excess buttermilk to drip off, and coat it thoroughly in the seasoned flour mixture. Press the flour onto the chicken to ensure it sticks.
4. Fry the Popcorn Chicken:
– Carefully place coated chicken pieces into the hot oil one at a time, avoiding overcrowding the pot.
– Fry in batches for about 4-5 minutes or until the chicken is golden brown and cooked through.
– Use a slotted spoon to remove the chicken from the oil and place it on a paper towel-lined plate to drain excess oil.
5. Serve and Enjoy:
– Once all popcorn chicken is fried, serve it hot with your favorite dipping sauces, such as ketchup, barbecue sauce, or ranch dressing.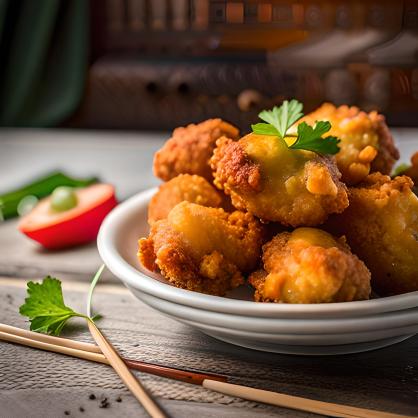 FAQs About Crispy Popcorn Chicken:
Q: Can I use chicken tenders instead of boneless breasts or thighs?
A: Yes, you can substitute chicken tenders for the boneless breasts or thighs. They are smaller and cook quickly.
Q: How can I make this recipe spicier?
A: To add heat, include cayenne pepper or chili powder in the flour mixture for a spicy kick.
Q: Can I bake the popcorn chicken instead of frying it?
A: Absolutely! Preheat your oven to 400°F (200°C), place the coated chicken on a baking sheet, and bake for about 15-20 minutes or until they are cooked through and golden brown.
Q: Can I make popcorn chicken in advance and reheat it?
A: While it's best enjoyed fresh, you can reheat popcorn chicken in the oven at 350°F (175°C) for about 10-15 minutes to regain crispiness.
Q: What are some creative dipping sauce ideas?
A: Consider honey mustard, Sriracha mayo, or sweet and sour sauce for unique dipping flavors.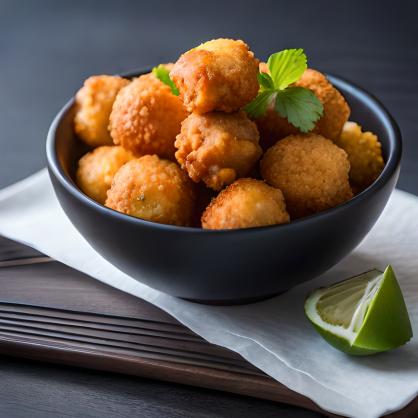 Q: How long can I store leftover popcorn chicken?
A: Store any leftovers in an airtight container in the refrigerator for up to 3-4 days. Reheat in the oven for best results.
Q: Can I use bone-in chicken for this recipe?
A: While boneless chicken is typically used for popcorn chicken, you can use bone-in chicken pieces. Just be sure to adjust the cooking time to ensure the chicken is fully cooked.
Q: Is there a gluten-free alternative for the coating?
A: Yes, you can use gluten-free flour or a blend of rice flour and cornstarch for a gluten-free coating. Ensure your seasoning blend is also gluten-free.
Q: Can I use an air fryer to make popcorn chicken?
A: Absolutely! Preheat your air fryer to 400°F (200°C) and cook the coated chicken in a single layer for about 10-12 minutes, flipping halfway through for even cooking.
Q: What's the best way to keep popcorn chicken warm for a party or gathering?
A: To keep popcorn chicken warm, place it on a baking sheet in a low-temperature oven (around 200°F/93°C) or use a warming tray or chafing dish.
Q: Can I make a large batch of popcorn chicken and freeze it for later?
A: Yes, you can freeze popcorn chicken. After frying, let it cool completely, then freeze it in a single layer on a baking sheet before transferring to an airtight container or freezer bag. Reheat in the oven when ready to enjoy.
Q: How do I prevent the coating from falling off during frying?
A: Make sure the chicken is well-coated with buttermilk and that the seasoned flour mixture is pressed onto the chicken. This helps the coating adhere properly.
Q: Can I use a different type of oil for frying?
A: Yes, you can use vegetable, canola, peanut, or sunflower oil for frying, depending on your preference and any potential allergies.
Q: Are there alternatives to buttermilk for marinating the chicken?
A: If you don't have buttermilk, you can use plain yogurt or a mixture of milk and vinegar (1 cup of milk + 1 tablespoon of vinegar) as a substitute.
Q: Can I make a healthier version of popcorn chicken?
A: To make a healthier version, consider baking the coated chicken pieces or using an air fryer. You can also use whole wheat flour or almond flour for a nuttier flavor and added nutrition.
Q: What can I serve as side dishes with popcorn chicken?
A: Popular sides include coleslaw, french fries, potato salad, or a crisp green salad. Get creative with your choices!
Q: Can I make this recipe with boneless chicken wings instead of traditional popcorn chicken pieces?
A: Absolutely! You can adapt the recipe to create boneless chicken wings by adjusting the size of the chicken pieces and cooking time to your liking.