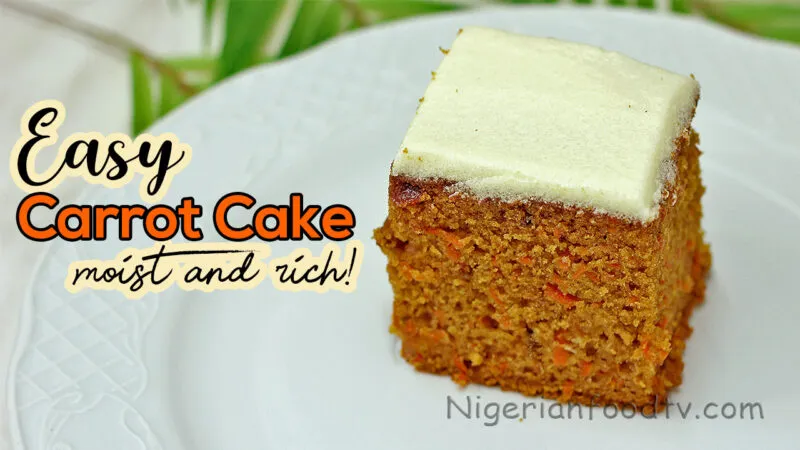 A few years ago I shared a carrot cake recipe that I truly loved, and many of you also enjoyed making the cake. But today allow me to introduce to you my new an improved carrot cake recipe from scratch.
This one, like many of our cake recipes, is a no-fail, beginner friendly, crowd-pleasing, finger-licking and of course easy to prepare carrot cake.
I also included a simple but sweet cream cheese frosting to go with the cake.
Honestly, except you really want to, you truly don't need the cream cheese frosting, 'cos this carrot cake shines on it's own, and do not need any frosting to make it stand out.
When it comes to cakes, I always make sure to be as detailed as possible, so I included step by step photos and a video recipe, so that you can follow along and not miss a step.
Believe me, I have had my fair share of failed cake recipes and don't want you to do the same, so here we go, my trusted and ever dependable delicious moist and addicting carrot cake recipe.
Let me also mention that the carrot cake batter can be made in any cake pan of choice including into carrot cake cupcakes and carrot cake muffins.
So that's for that, here's how to make the best carrot cake ever.
Ingredients for this yummy carrot cake dessert:
3 cups all purpose flour
2 teaspoons baking soda
2 teaspoons baking powder
1/2 teaspoon salt
1 teaspoon cinnamon powder
1/2 teaspoon nutmeg
3 extra large whole eggs
1/2 cup white sugar
3/4 cup brown sugar (or use all white or all brown)
300ml plain vegetable oil
100ml milk
4 cups grated carrots (about 5 to 6 large carrots)
1/cup raisins(optional)
1/3 cup nuts(I used almonds nuts)
1 teaspoon vanilla extract
In a large bowl combine the all purpose flour, baking soda, baking powder, salt, cinnamon powder and nutmeg powder .
Mix well with a whisk and at the same time we'll be aerating the flour as we whisk.
You can also pass the mixture through a sieve to aerate the flour
Now we'll set the flour mixture aside.
– We'll go ahead and line our baking pans and also preheat the oven to 350ºF or 175ºC
– Into another large bowl, we'll add 3 extra large whole eggs, white sugar, brown sugar
(or use all white or all brown) and 300 ml plain vegetable oil and mix to combine
is there carrot in carrot cake
– We'll gradually add in the flour mixture and mix until well combined.
– To get a carrot cake that isn't so dense and heavy, I like to thin down and also enrich the carrot cake batter by adding about 100ml whole milk, mix gently until well combined
(if you 'll rather not use milk, you can use 4 – 5 eggs instead of the 3 eggs that I used).
– Add the grated carrots(I used about 4 to 6 large carrots, but you can use less if you want to.
– We'll also be adding the raisins, nuts and vanilla extract and stir to combine– feel free to add any type of nuts you like. You can also omit the nuts and the raisins as well, but they take the cake to another level.
– Pour into prepared pan and bake in the preheated oven at 350F(175C) for 30-45 minutes or until toothpick
dipped into cake comes out clean without batter stains
carrot cake recipe with butter
For the cream cheese icing
– 250 gr icing sugar
– 90 gram butter (room temperature)
– 90 grams full fat cream cheese
– 1 tsp vanilla essence
– add butter and cream cheese to bowl and whisk until creamy and smooth
– gradually add in the icing sugar and whisk until smooth
– add the vanilla essence and whisk until combined
– then pour over cooled cake and set in cool place to set
slice your carrot cake and enjoy